Spiraling machines
Applications
THE OTHER TECHNOLOGY!
In addition to the braiding, spiraling for applying steel and yarn on cables and hoses and other tube-like products is widely used today. Also for PNS offers appropriate equipment solutions.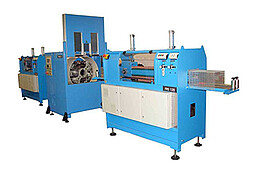 WFMS4-FRS120-RFZ150
Magazine spiraling machine system
The powerful spiraling machine system for spiraling steel wires or plastic strands onto strand materials.
WFMS4
Magazine spiral inserting
A new generation of the powerful spiraling machine for spiraling steel wires, plastic strands, etc. up to Ø2mm on stock up to Ø120mm. The spiralizing material can be processed in a magazine bobbin (monofilar) or efficiently in double magazines (bifilar). The tensile forces of the magazine bobbins are process-controlled separately using state-of-the-art brake technology.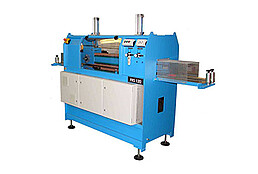 FRS120
Universal caterpillar take-off in tension or feed function for the linear transport of rope-shaped products up to Ø120mm. By means of the generated transport speed, process sequences in production lines can be controlled or regulated.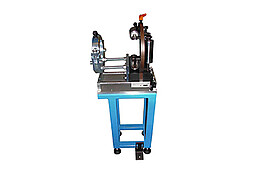 RFZ150
Upstream and downstream centering equipment for the new generation of high capacity magazine spiraling machines.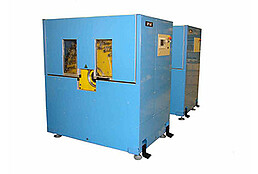 SPT60D
Spiraling machine in double deck arrangement. To the highly efficient of generating multiple yarn reinforcement.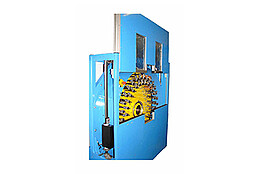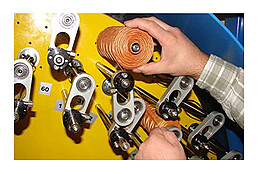 SPT60
The highly efficient spiraling machine for yarn reinforcement with 60 dereeling units and the most innovative bobbin braking technology.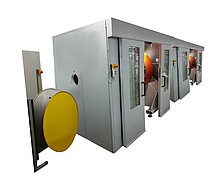 SPT18D-YH/A-B
Spiraling machine system for applying yarn reinforcement to rubber, silicone and PVC hoses.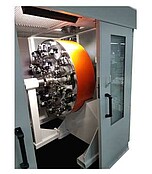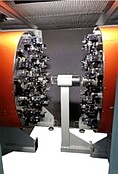 SPT18-YH
Spiraling machine for creating yarn reinforcement for rubber, silicone and PVC hoses for highest demands on quality and productivity. The use of the latest brake sensor and control technology guarantees consistently excellent, reproducible spiraling results.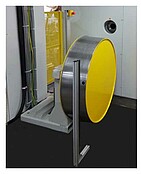 SA100-E
Single-disc wheel for pull out strand-shaped products with pulley and integrated measuring system for the synchronization of production components (for example, braider, spiralizer, taping machine).